One lane of the new I-91 Northbound Exit 29 has opened to traffic, and the existing right-hand exit has closed permanently, but there is still more work to do.
Currently the new exit is only at 50% capacity; this exit will not function as intended until the Wethersfield portion of the project is completed by widening, and the construction of the extra, much-needed additional lane of the new Exit 29 is open fully. Also, widening work on Route 5/15 NB in East Hartford must be completed in order to accommodate the new two lanes of traffic.                                                                                                                                                        
Motorists are cautioned that this is still a very active construction zone with reduced lane widths, reduced speed limit, no shoulders,  and temporary barriers. Motorists, please exercise caution and obey the laws in the construction zone.
 
The project is anticipated to be totally completed by October 2022.


New Left-Hand Exit:
To access the new ramp, I-91 Northbound travelers will take Exit 29 on the left – a new traffic pattern, as the existing ramp is a right exit. The new left exit and will originate further south on I-91 Northbound than the existing right exit.
The new Exit 29 includes a bridge that spans over Route 5/15 Southbound, and will enter Route 5/15 Northbound from the left lane, onto the Charter Oak Bridge. The second lane of the new Exit 29 will open at a later date, upon completion; the former ramp will be demolished and the debris removed, as part of the ongoing project.
Read More in the Hartford Courant 5/26/21: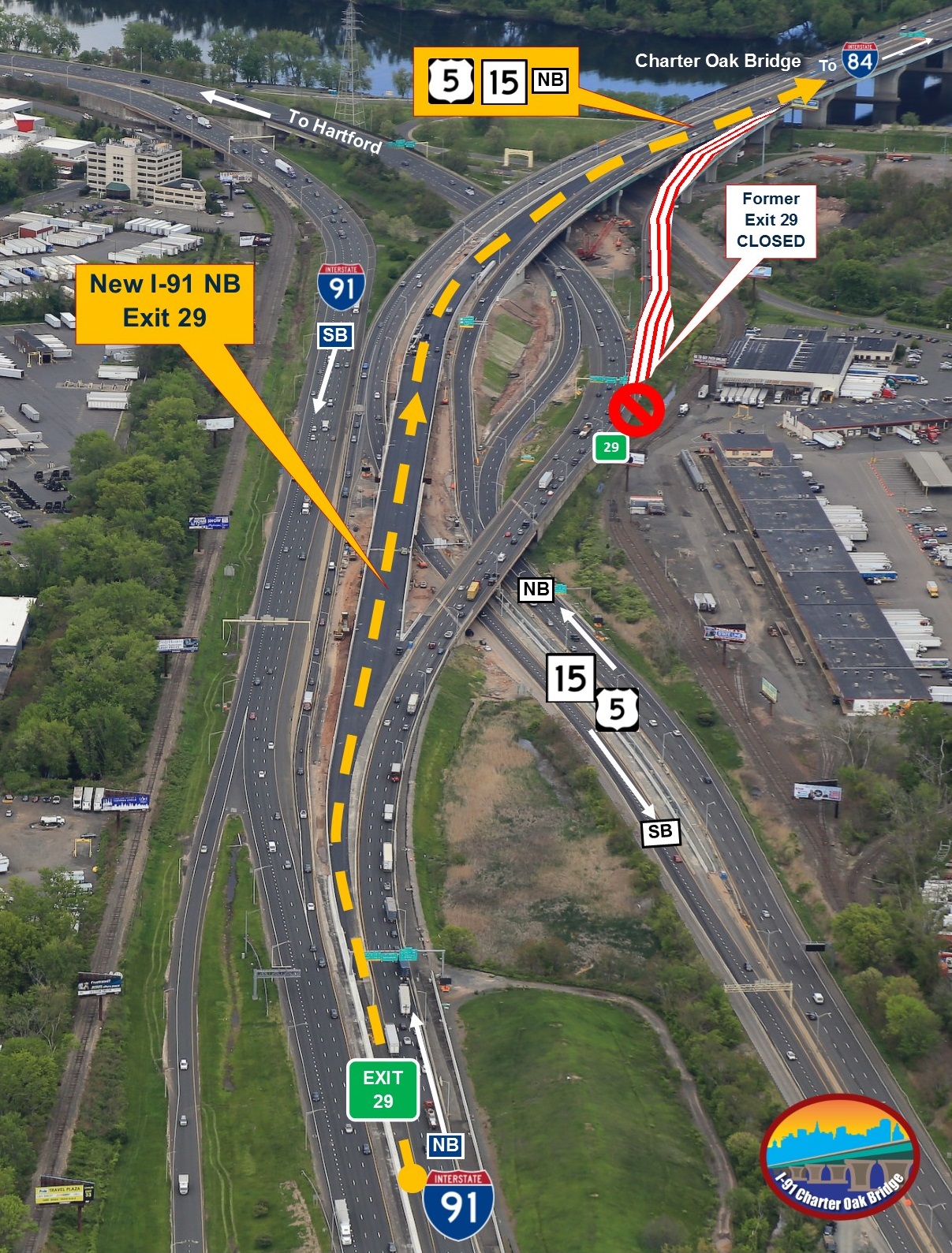 The I-91 Charter Oak Bridge Project will relieve this bottleneck for roughly 80,000 drivers per day by improving through-traffic capacity and by reducing weaving maneuvers on I-91 Northbound and on Route 5/15 Northbound on the Charter Oak Bridge.
Work on the I-91 Charter Oak Bridge Project will continue through October 2022 with completion of the:
New second lane for I-91 Northbound Exit 29
Widening of I-91 Northbound and its bridges
Lowering of Airport Road
Widening of Route 5/15 Northbound and its bridges in East Hartford
Opening Ceremony:
Joseph J. Giulietti, Commissioner, CTDOT. Governor, State of Connecticut
Donald Ward, District 1, District Engineer, CTDOT
Susan Bysiewicz, Lt. Governor, State of Connecticut
Ned Lamont, Governor, State of Connecticut
Saud Anwar, State Senator, 3rd District, State of Connecticut
Will Haskell, State Senator, 26th District, State of Connecticut, and Transportation Co-Chair
Marcia Leclerc, Mayor, East Hartford, CT
Michael Rell, Mayor, Wethersfield, CT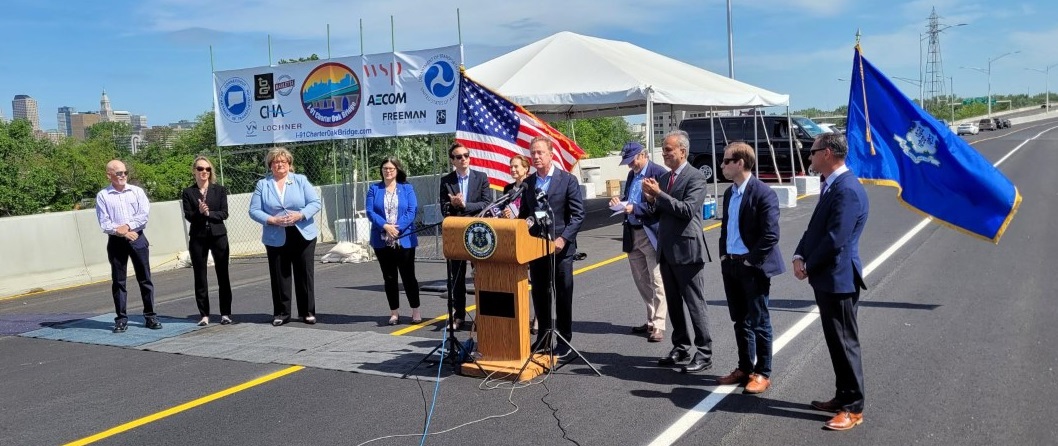 Watch the Event as covered by WFSB in the News: